Guess the number of eggs in the basket – Result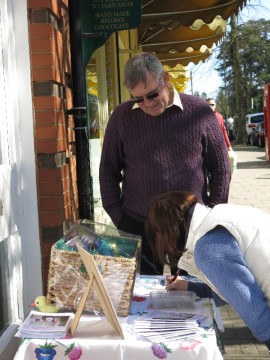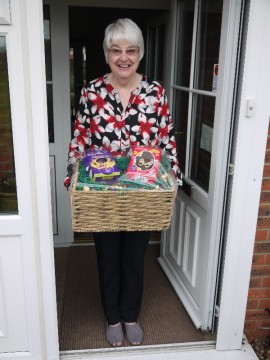 The number of Easter eggs in the basket was correctly guessed by Jean whose guess of 70 was spot on; so congratulations to Jean and enjoy your winnings.
A special thanks must go to Carol and Roger Webb for not only organising the competition but also for all their hard work, out in all weathers, encouraging local people to have a go and guess the number of eggs in the basket. Thanks also go to all who donated chocolate eggs for the event.
A total of £254.00 was raised and all proceeds from this competition go towards the running of the Woodhall Spa Cottage Museum that relies on volunteers and voluntary contributions for its survival.
The photos show Roger out in Woodhall Spa taking another guess and Jean with her winnings.
Information last updated on 10 April 2016