The Wield Family
The story of the Wield family is centred on John Wield because it is largely owing to him that the Cottage museum exists. Nevertheless, we will begin with his parents, Thomas and Mary. We will end with Gillian and Angela because they have provided important details about their grandfather and the bungalow. They both have children but they play no part in our story.
Thomas and Mary
Thomas and Mary moved to Woodhall Spa from Hampshire. They began working at the baths in 1880 and in 1884 they were put in charge. One of Thomas's tasks was drawing up the water from the well. Mary organised the baths for women. The bungalow, which was made by Boulton Paul, was provided for them by Mr. Hotchkin and the Medical Officer of Health in 1887.
It was in 1887, too, that the bath chair business began. There were both donkey and hand drawn chairs. They were very necessary for taking ill or arthritic patients to the baths but were also used to transport people to the station and for pleasure trips. There was a forge, with a fan driven fire, and a workshop at the rear of the bungalow that enabled Thomas to shoe the donkeys and make some of the chairs himself.
Thomas was clever with his hands. Outside the front gate (of the bungalow) there was a stereoscopic peep show which he made. This had several scenes on a revolving drum which was operated by the insertion of 1 penny. He made violins out of sycamore, making the last one the year he died at the age of eighty.
Bathchairs
Mary Wield
John Wield and Asenath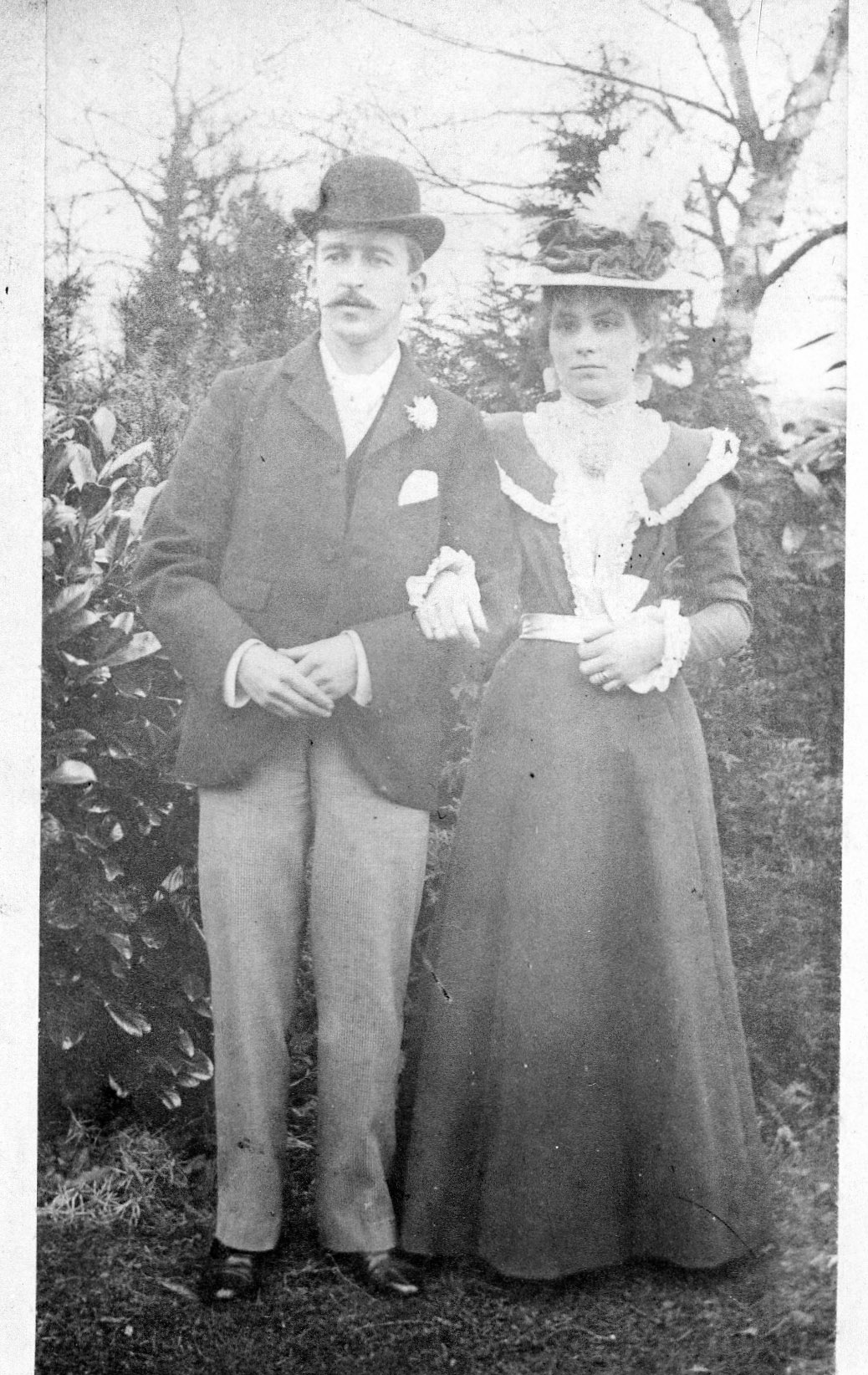 This photograph shows John and Asenath on their wedding day in 1898. He was 21 and she was 22. They were to be together for 63 years until the death of Asenath in 1961 when she was 83. John died three years later at the age 87.
John
John began his working life as a whitesmith with Humphersons, the ironmongers and sanitary engineers. He was a polymath who could turn his hand to almost anything he chose. In later times he would probably have had a distinguished career.
Photography was a major interest. He had a dark room and a studio in buildings behind the bungalow. He also made cameras and gave magic lantern shows.
He became every interested in optics and this provided another source of income when his prescriptions were accepted by the NHS. A room in the bungalow became the NHS office for the village.
When electricity came to the village he wired the bungalow himself. He mended clocks and watches and created his own "inventions" as his granddaughter Gillian describes them. One of these was a "calculator" which had "cogs moved by a sort of darning needle on a longish handle".
He also entertained Gillian and John "with paper and pencil games and drawings. He would draw round pennies (old 1d. ones) and then put simple faces in them; each one showing different emotions: crying, laughing, puzzled, etc.
He had a fine tenor voice and sang with the church choir. He sang solos, not only in the village church but also, on occasion, in Lincoln Cathedral.
Asenath
We know less about Asenath than we do about John. Presumably, her major concern was looking after the house and the children (see below).
Her grand-daughter (Gillian) says that "whilst he (John) spent the day in the workshop, studio or mending watches in the office Grandma did the housework and cooking. After dinner – mid day – she got changed. Then came knitting, sewing, darning, reading and shopping". This, of course, was after their children had left home.
In her later years she was very unfortunate with her health. Gillian tells us that "she had broken her hip in the early 30's and medical science not being what it is now she was lame for ever after. She would move about the house without her stick by using the walls and furniture to lean on. In the garden she usually had her stick but all shopping trips were done in the wheel chair."
More tragically still, she was blind for the last 5 years of her life.
Gillian tells us that in an overgrown part of the garden there lived a family of feral cats. Some would venture to the back of the house where saucers of milk and scraps were left for them. "One lean old lady had been befriended by granddad and became a semi-house cat. We could stroke her but she never allowed anything else. …. One of her sons, a handsome fluffy tabby, loved being a house cat and was a great favourite of ours".
Gillian also remembers the bread delivery. "The man would come down the drive with his big basket over his arm. He would lift up the white cloth covering the loaves and Grandma would choose what she needed. John and I would take it down to the pantry and put it in the big brown crock.
Asenath with her children, Cedric and Effie
Asenath
Asenath at the front door of the bungalow
Mary and the bread man
Effie and Cedric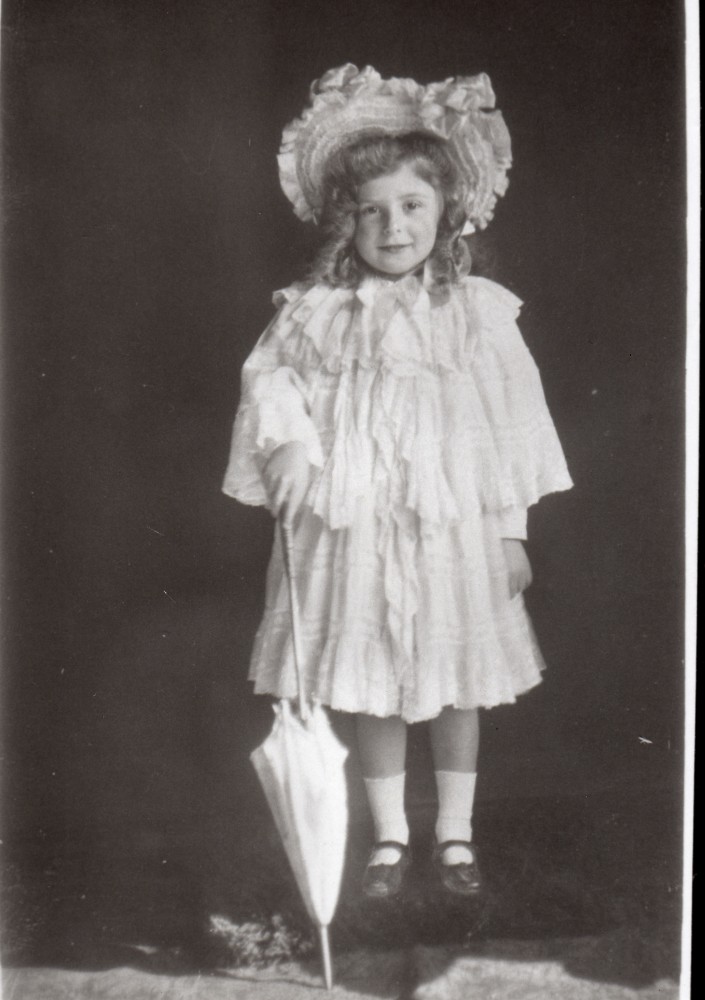 This photograph shows Effie's long hair. Gillian (her daughter) tells us that "sometime before her marriage she had her hair cut without permission. Her father was very displeased and made her wear a hat in the house for a while so that he wouldn't see her short hair".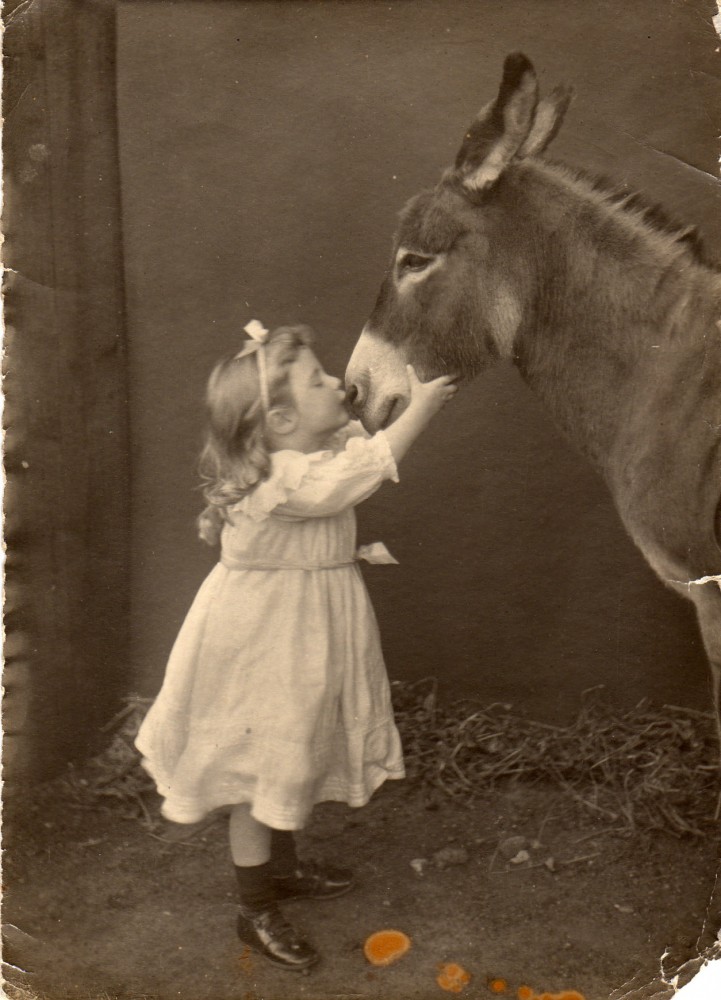 John Wield won a national photographic competition with this charming picture of Effie. The title of the photograph was 'First Love'.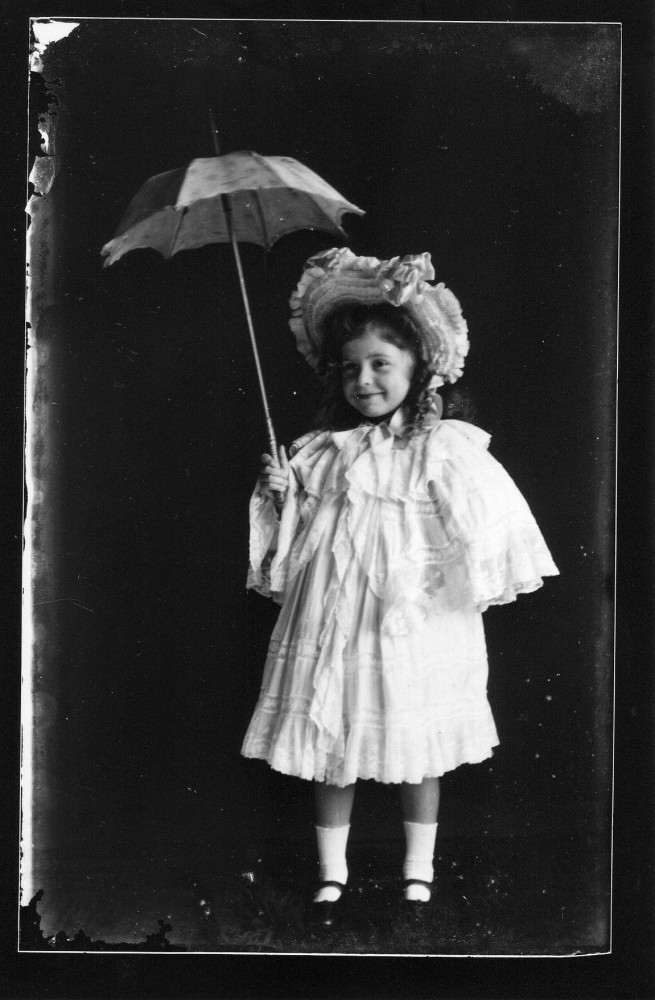 Effie is wearing a silk lace dress which was a gift from either Lady Weigall or a Lady Lindsay. This was altered later to be Gillian's christening gown. Because Effie was a pretty child several ladies gave her presents.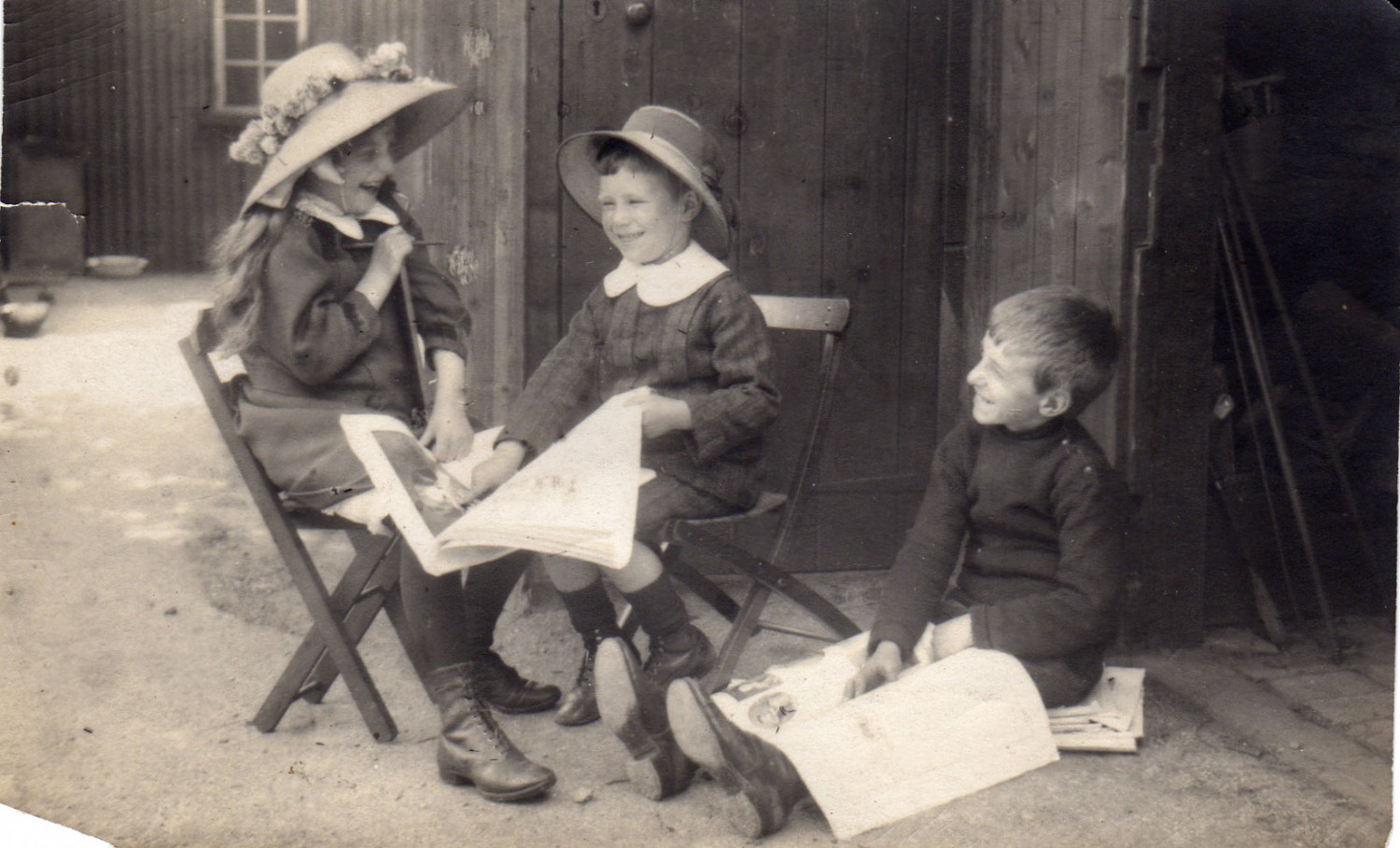 Effie is on the left of this photo and Cedric on the right. The identity of the young lady in the centre is not known. Another cousin, perhaps?
Recollections of an Early Childhood
An interview with Desiree Carlton, great-niece of John Wield
Desiree was born in 1941 at Toronto House, now the Alliance Chemist , on The Broadway , Woodhall Spa . Her mother Zena Parker, nee Lee was the daughter of Grace Mary Lee, nee Dickinson , the sister of John Wield's wife, Asenath . She remembers that Asenath had two elder sisters, Lucy and Elizabeth Dickinson and two brothers, George and Joseph Dickinson . Lucy's married name was Rose and her grandson , John Rose, is a councillor in Metheringham .
John Wield's Victorian corrugated iron bungalow was one of only two erected in Woodhall Spa, the other one being in Horncastle Road close to Kirkby Lane . She remembers it being very cosy and homely and she loved going there for tea and cakes and watching the trains go by. John and Asenath regularly took her to the Teahouse in the Woods where she would enjoy watching red squirrels running around in the many trees which grew there at the time .There was always a great welcome at the house and she described them as a wonderful couple and John Wield as a fantastic man . She recalled that Asenath called John "Jacka" and sometimes "Bumpy" which she assumes were terms of endearment . He was employed full time as a bath chair proprietor, taking clients from the railway station to the various hotels and guest houses and from there to the Spa Baths . She described John as an inventor and when he was not servicing and repairing his bath chairs he made cameras , spectacles and monocles , worked in the garden and pursued his first love as a photographer . Desiree remembered his dark room in the cottage and the many hundreds of glass plates in the shed .
Desiree contracted tuberculosis in her lymph gland when she was six years old after drinking a glass of milk and spent twelve months in an isolation hospital . She remembers John and Asenath's two children Effie ( short for Ethel) and Cedric and last saw them in 1953 . Cedric went to work for Malaysia Railways. He had started his career working for the railways and continued all his working life in that field. She last saw John Wield in the early 1960's, she thinks 1962 , when she was living in Thornton and John Wield was in a home in Woodhall Spa. Desiree now lives with her husband in Metheringham , where she enjoys painting in watercolour.
Paddy O'Neill
A train passing the bungalow
The tea house in the woods
A photo that John Wield tinted by hand
John Wield's description of his donkeys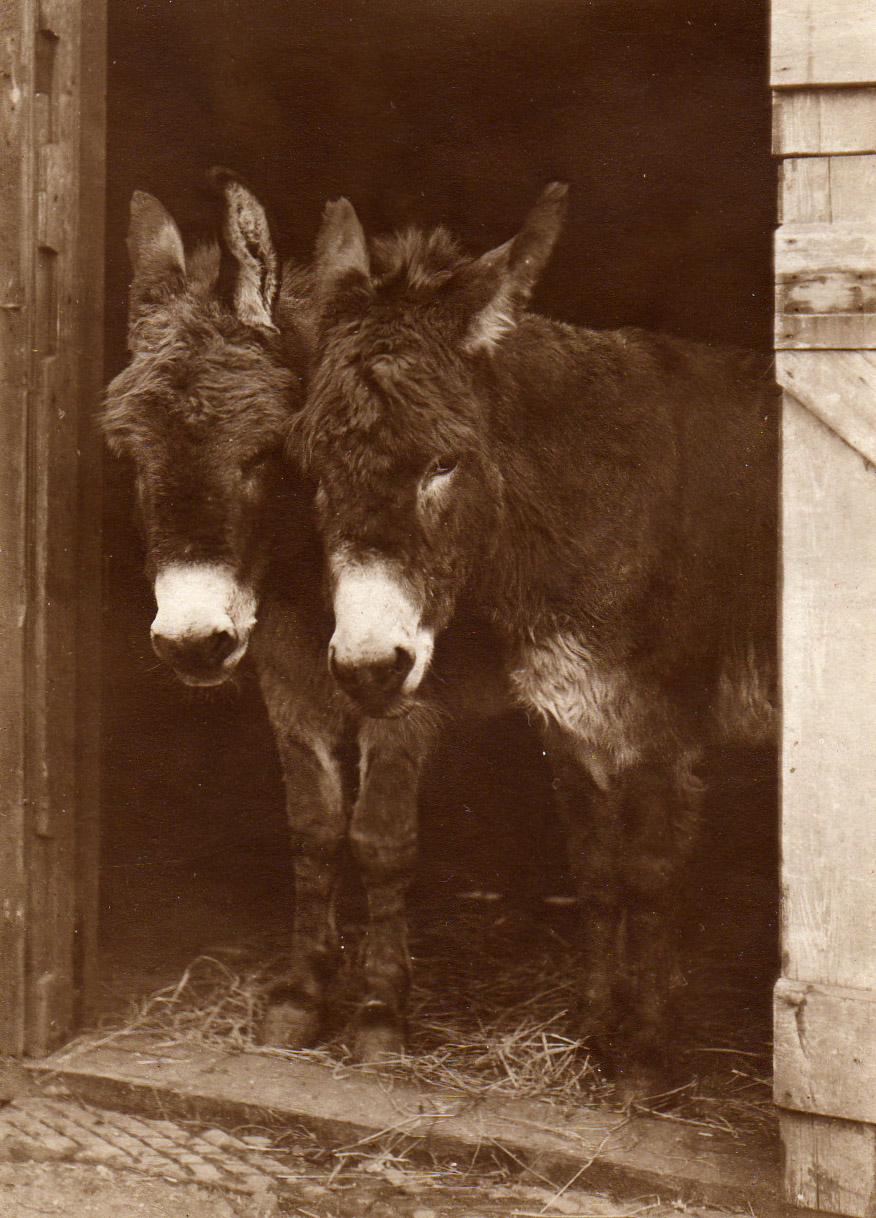 "We have had some four or five donkeys. Each had its own character. Their bray was individual. Polly's voice was very clear, it could be heard miles on a still night. She was a willing worker, always eager to go out and ready to return. No stick for Polly!"
Neddy proved too fast for the bath chairs. He would trot for miles, so, with regret he was swapped for our number 1, Jack who puzzled us by refusing to stand still when left by himself in the stable. At last we left the stable open and, much to our delight, he came outside and just stood about, never leaving the place! Then when Polly returned he always went and rubbed his nose against hers. When drinking he always let Polly drink first. Our little daughter could play all around his legs. Yes, he was gentle, kind and a lovely disposition.
Later on we acquired Nancy, she was also a nice animal, and a number 2 Jack who was a fine donkey but so nervous. She must have had a shock some time! Nevertheless, one Sunday, just before lunch I saw Nancy and Jack feeding in the field. Five minutes later, by chance, I realised only one was to be seen. Jack was leaning forward over the side of the ditch, grasping something, pulling and nearly falling backward, then going forward and repeating. I realised Nancy was in the ditch. Jack was trying to grip her mane and pull her free! She was fairly fixed but, after some moments, I was able to get her leg so that she could stand in the ditch. How Jack so quickly learned to help Nancy will always remain a puzzle to me.
Soon after this, the war became critical. The donkeys were given up. In 1919 some recovery took place but the destruction by fire of the Victoria Hotel in 1920 severed the old days completely."